Biografie 30 Seconds to Mars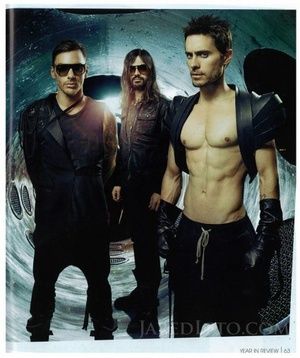 30 Seconds to Mars au luat fiinta in 1998 in Los Angeles, California, unul dintre membrii fondatori fiind solistul si chitaristul Jared Leto.
Jared Leto
este un cunoscut actor, devenit celebru in special datorita rolului din filmul Requiem For A Dream.
Stilul trupei se situeaza undeva intre alternative rock, post hardcore si emo.
Componenta:
Jared Leto voce, chitara
Tomo Milicevic chitara, clape
Shannon Leto tobe
Discografie:
30 Seconds to Mars - 2002
A Beautiful Lie - 2005
30 SECONDS TO MARS
www.thirtysecondstomars.com
www.myspace.com/thirtysecondstomars