Stiri All That Remains p2
Scrie si tu pe site cu Citizen Journalism.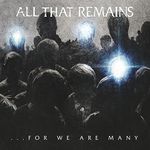 joi, oct 21, 2010 - Mike Martin, chitaristul All That Remains, a fost intervievat recent de catre Metal Assault Puteti asculta interviul audio mai jos. Born Of Osiris sustin un turneu american alaturi de All That Remains si Asking Alexandra , care...

Join the ranks ! LIKE us on Facebook