Biografie As I Lay Dying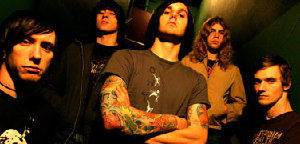 As I Lay Dying este o trupa californiana de metalcore cu influente din sfera death metalului melodic.
Numele trupei vine de la romanul cu acelasi titlu, scris de
William Faulkner
, desi nu exista nici corelatie din punct de vedere liric intre roman si formatie.
As I Lay Dying a luat nastere in 1999 in San Diego, California dar s-a destramat dupa numai un an, in 2000, atunci cand vocalul Tim Lambesis s-a mutat in Texas pentru a se altura trupei Society's Finest. Tim a parasit Society's Finest in 2001 si s-a mutat inapoi in San Diego unde a reformat trupa, care a semnat cu Pluto Records pentru a scoate in iunie 2001 primul album full-length numit "Beneath the Encasing of Ashes".
In 2002, formatia a inregistrat cateva piese pentru un CD facut impreuna cu American Tragedy, de asemenea lansat la Pluto Records. Dupa un turneu mai extins si o crestere a popularitatii, As I Lay Dying a semnat cu
Metal Blade Records
la inceputul lui 2003. In iulie 2003 a fost lansat cel de-al doilea album, "Frail Words Collapse" si a inceput turneul cu Himsa, Shadows Fall, The Black Dahlia Murder, By Nightfall si alte trupe celebre.
In iunie 2005, formatia a lansat al treilea album "Shadows Are Security" cantand pe scena a doua la Ozzfest 2005.
In mai 2006 "Beneath the Encasing of Ashes" si EP-ul impartit cu American Tragedy au fost relansate la Metal Blade Records pe un singur CD. Albumul contine variantele originale, si cele reinregistrate ale pieselor de pe EP. In 2006 reputatia formatiei As I Lay Dying a crescut odata cu turneul intreprins in Statele Unite cu formatii ca Deftones si Funeral For A Friend.
La inceputul lui 2007, As I Lay Dying au inceput sa inregistreze un nou album, care se va intitula "An Ocean Between Us" si va fi lansat pe 21 august 2007 la Metal Blade Records.
Stil:
metalcore
Componenta:
Tim Lambesis - voce
Jordan Mancino - baterie
Phil Sgrosso - chitara
Nick Hipa - chitara
Josh Gilbert - bass, voce
Discografie:
Beneath the Encasing of Ashes (2001)
As I Lay Dying/American Tragedy (split album) (2002)
Frail Words Collapse (2003)
Shadows Are Security (2005)
A Long March: The First Recordings (2006)
An Ocean Between Us (2007)
AS I LAY DYING
www.asilaydying.com
www.myspace.com/asilaydying