Biografie At the Gates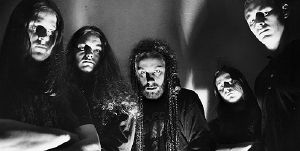 Una din trupele de death metal melodic care s-au extins dincolo de Suedia, alaturi de
Entombed
, At The Gates au jucat un rol important pe scena death metalului, inainte sa se desparta in 1996, conducand la formarea trupei
The Haunted
.
Componenta initiala a trupei era Tomas Lindberg (voce), Anders Bjorler (chitara), Adrian Erlandsson (tobe), Jonas Bjorler (bass), and Alf Svensson (chitara). Formata in 1990, formatia a lansat primul EP intitulat "Gardens of Grief". Dupa ce au luat parte la un turneu cu trupe cunoscute ca Bolt thrower si Dismember, au semnat cu Peaceville Records, care le-au lansat albumul "The Red in the Sky Is Ours".
In 1993, l-au inlocuit pe Svensson cu Martin Larsson la chitara, au lansat cel de-al doilea album, "With Fear I Kiss The Burning Darkness", si au mers in turneu prin Marea Britanie impreuna cu
Anathema
si Cradle of Filth.
A urmat albumul "Terminal Spirit Disease" lansat in mai 1994, care a marcat apropierea lor de genul death metal. Urmatorul material, "Slaughter For The Soul" dezvaluie un stil mai melodic, fata de celelalte albume, ramanand inca in sfera death metal .
Trupa s-a despartit in 1996, membrii acesteia formand trupele The Haunted, Nightrage sau The Great Deceiver. Bateristul Adrian Erlandsson se va alatura celor de la Cradle Of Filth.
Muzica trupei At The Gates a inflentat multe trupe de metalcore si de death metal melodic, printre care The Black Dahlia Murder, As I Lay Dying and Darkest Hour.
Stil:
melodic death metal
Componenta:
Tomas Lindberg - voce
Anders Bjorler - chitara
Jonas Bjorler - bass
Adrian Erlandsson - tobe
Discografie:
The Red in the Sky Is Ours (1992)
With Fear I Kiss the Burning Darkness (1993)
Terminal Spirit Disease (1994)
Slaughter of the Soul (1995)
AT THE GATES
www.atthegates.se
www.myspace.com/atthegatesband