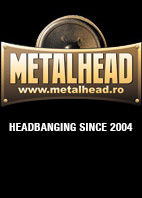 Stiri Concerte Bilete online Poze Artisti Tabulaturi chitara Versuri Radiouri Online Liste Forum METALHEAD Shop
BENIGHTED
Biografie
Tara: Franta Trupe similare: Bolt Thrower Decapitated Behemoth Stil: brutal death metal Componenta: Julien Turchan - voce Oliver Gabriel - chitara Liem N'Guyem - chitara Eric Lombard - bas Discografie: 2000 Benighted 2002 Psychos 2004 Insane Cephalic Production 2006 Identisick 2007 Icon BENIGHTED www.staybrutal.com www.myspace.com/brutalbenighted ...
Toata biografia BENIGHTED
Stiri cu BENIGHTED
Francezii de la Benighted au lansat prima piesa de pe noul lor album, "Necrobreed", ce urmeaza a fi lansata pe 17 februarie via Season of Mist. "Necrobreed" tracklist: 01. Hush Little Baby 02. Reptilian 03. Psychosilencer 04. Forgive Me Father 05. Leatherface 06. Der...


Mighty Owl Productions revine in 2012 cu o noua editie Mighty Owl Festival, eveniment ce va avea loc in data de 11 iulie la Bucuresti. Urmand succesul editiei din 2011 (unde headlineri au fost Decapitated), Mighty Owl Festival 2012 isi propune sa extinda atat calitatea cat si notorietatea...


Formatia franceza Benighted a semnat un contract cu Season Of Mist pentru a lansa al saselea album din cariera, disponibil pe piata in data de 18 aprilie, 2011. Urmasul lui Icon a fost inregistrat in studioul Kohlekeller din Darmstadt, Hessen, Germania si ii are ca invitati pe Sven de Caluwe...


Top Versuri BENIGHTED

Aboneaza-te la newsletter
Join the ranks ! LIKE us on Facebook