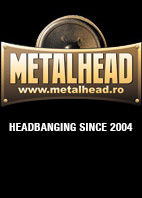 Stiri Concerte Bilete Poze Artisti Tabs & Chords Versuri Radio Online Liste Magazin de Muzica
Bethlehem
Stiri cu Bethlehem
Grupul german Bethlehem va sustine un turneu european in aceasta toamna alaturi de Secrets Of The Moon si Dordeduh. Datele turneului sunt: 27-09-12 - K17, Berlin, GER 28-09-12 - Willemeen, Arnheim, NED 29-09-12 - Exzellenzhaus, Trier, GER 30-09-12 - JH Comma, Bruges, BEL 01-10-12...


Grupul german Bethlehem are un nou solist in persoana lui Malte Langenbrinck (Chaos Invocation). Langenbrinck isi va face debutul pe scena cu ocazia participarii Bethlehem la festivalul Under The Black Sun din Germania. A Sacrificial Offering To The Kingdom Of Heaven In A Cracked Dog's Ear , cel mai nou album...


Kalt regelt ab die Krankgeburt, o noua piesa semnata de Bethlehem, poate fi ascultata pe pagina oficiala de MySpace . Piesa este extras de pe mini CD-ul ' Stoenkfitzchen ', disponibil via Red Stream Inc. Compozitia este inregistrata in formula: Niklas Kvarforth - voce Eckhardt...


Top Versuri Bethlehem
Tabulaturi Bethlehem

Join the ranks ! LIKE us on Facebook