Stiri Blinded by Faith
Scrie si tu pe site cu Citizen Journalism.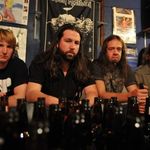 vineri, feb 17, 2012 - Grupul canadian Blinded By Faith va lansa in data de 10 martie un nou album intitulat Tchernobyl Survivor, disponibil via Galy Records. Tracklist-ul albumului este: 01. Tchernobyl Survivor 02. Pace Of The Race 03. Dead End...