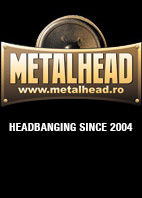 Stiri Concerte Bilete Poze Artisti Tabs & Chords Versuri Radio Online Liste Magazin de Muzica
Concerte Bullet for My Valentine
Daca ai facut poze la un concert, cauta-l in arhiva sau in calendar (click pe ziua sau luna concertului) si urca pozele tale pe site: Arhiva concerte
27 August 2017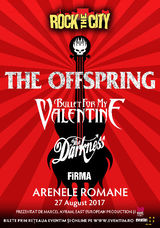 Premiera muzicala in Romania: The Offspring, legendara trupa din California va fi headliner in cadrul celui mai mare festival rock din Romania – Rock The City, ajuns la cea de a 8-a...
Locatie: Arenele Romane - Bucuresti
Stiluri:
27 Iulie 2013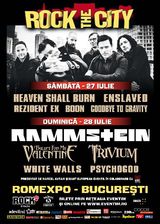 Conform progamului de turneu, Rammstein vor concerta pe data de 28 iulie la Romxepo, Bucuresti in cadul festivalului Rock The City. Vom reveni cu detalii. 01. Juni 2013 NL- Nijmegen, Goffertpark,...
Locatie: Romexpo - Bucuresti
Stiluri: Rock
Vezi si concerte din orasele de mai jos:
Bucuresti Cluj Napoca Sibiu Suceava Timisoara Constanta Iasi Oradea Arad Galati Buzau Brasov Ploiesti Targu-Mures Bacau Pitesti Satu Mare Baia Mare Vama Veche



Join the ranks ! LIKE us on Facebook