Biografie Cadaveria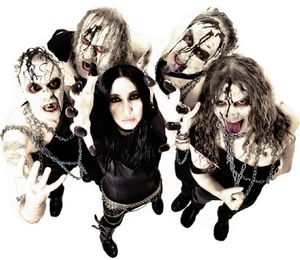 Cadaveria a luat nastere in aprilie 2001, la initiativa lui Flegias si Cadaveria, membri
Opera IX
. Trupa a semnat cu Scarlet Records, unde a si lansat albumul de debut, The Shadows Madame, in 2002. Cadaveria si basistul Killer Bob au un proiect separat, intitulat Dynabyte.
Al doilea alum,
Far Away From Conformity
lansat in 2004, a fost inregistrat si mixat la Captain Woofer Studios. In 2006, Cadaveria a lucrat la al 3-lea cd, intitulat
In Your Blood
. Discul a fost lansat sub egida Season of Mist si contine 12 piese ce marcheaza un nou pas in cariera trupei.
Stil:
black metal/dark metal/gothic metal
Componenta:
Cadaveria - voce
Frank Booth - chitra
Killer Bob - bas
Marcelo Santos - tobe
Discografie:
The Shadows' Madame (2002)
Far Away From Conformity (2004)
In Your Blood (2007)
CADAVERIA
www.cadaveria.com
www.myspace.com/cadaveriaband