Biografie Caliban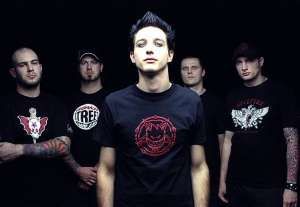 Caliban
este o trupa de metalcore din Germania. Pana in momentul de fata, au la activ 6 albume. Formatia a luat nastere in Germania sub numele de
Never Again
. Dupa 6 luni de repetitie, cei 5 membri au inregistrat 2 piese pentru un demo, ce nu a fost lansat niciodata.
Piesele au fost trimise celor de la Lifeforce Records, ce au oferit trupei un contract. Primul EP al trupei a aparut in 1988. Dupa un turneu european, Caliban au intrat in studio pentru a inregistra primul album, A Small Boy and a Grey Heaven. CD-ul a primit critici favorabile, find descris drept o combinatie intre
Slayer
, Poison the Well si Hatebreed.
Vent a aparut pe piata in aprilie 2001. La scurt timp dupa lansare, Caliban a avut ocazia de a sustine un turneu in Japonia, alaturi de Slayer,
Pantera
, Machine Head, Biohazard si Morbid Angel.
In august 2002, Caliban au inregistrat
Shadow Hearts
. Discul este mult mai melodic fata de precedentele. In 2004, trupa a semnat cu Roadrunner Records si au inceput inregistrarile pentru al patrulea album The Opposite From Within.
In iulie 2005, trupa a lansat un split-CD alaturi de Heaven Shall Burn. A urmat un turneu alaturi de
All Shall Perish
, Bleeding Through si I Killed The Prom Queen.
Caliban au lansat in 2007, albumul
The Awakening
, alaturi de producatorul Benny Richter. Discul a fost lansat pe 25 mai.
Stil:
metalcore
Componenta:
Andreas Dorner - voce
Denis Schmidt - chitara/voce
Marc Gortz - chitara
Marco Schaller - bas
Patrick Grun - tobe
Discografie:
Caliban (1998)
A Small BOy and a Grey Heaven (1999)
The Split Program with Heaven Shall Burn (2000)
Vent (2001)
Shadow Hearts (2003)
The Opposite from Within (2004)
The Split Program II with Heaven Shall Burn (2005)
The Undying Darkness (2006)
The Awakening (2007)
CALIBAN
www.calibanmetal.com
www.myspace.com/caliban