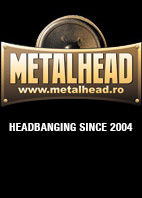 Stiri Concerte Bilete online Poze Artisti Tabulaturi chitara Versuri Radiouri Online Liste Forum METALHEAD Shop
Cancer Bats - Bricks and Mortar videoclip
Cancer Bats au lansat un videoclip nou, cel al piesei "Bricks and Mortar", pe care il puteti urmari mai jos. Piesa apartine celui mai recent album al trupei, "'Dead Set On Living", lansat pe 16 aprilie via Distort Records.

Albumul a fost inregistrat in studioul Vespa alaturi de producatorii Eric Ratz si Kenny Luong si il are ca invitati pe Rob Urbinati (Sacrifice), Dez Fafara (Devildriver) si Kate Cooper (An Horse).

'Avem piese thrash, avem piese hardcore apoi ritmuri groove gen Queens Of The Stone Age sau Kyuss.'

Tracklist album Dead Set On Living:

1. "RATS" (featuring Rob Urbinati)
2. "Bricks And Mortar"
3. "Road Sick"
4. "Breathe Armageddon"
5. "Dead Set On Living" (featuring Matty Matheson)
6. "The Void"
7. "Old Blood"
8. "Drunken Physics"
9. "Bastards" (featuring Dez Fafara and Kate Cooper)
10. "Rally The Wicked"
11. "New World Alliance"

500.000 rock & metal videos on ROCKTUBE and METALHEAD
Comenteaza logat cu Facebook

Aboneaza-te la newsletter
Join the ranks ! LIKE us on Facebook