For The Wicked, Breathelast, Twist Of Fate si Valak in Bucuresti (Quantic, 16.03)
Am fost la concert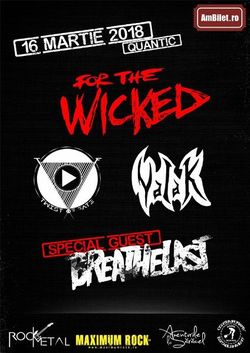 16 Martie 2018
Bucuresti - Quantic
Pret: 25 - 30

Dupa cateva luni de la ultima aparitie live in capitala, FOR THE WICKED revine in Bucuresti pentru a sustine un concert in data de 16 martie in club Quantic. Alaturi de acestia, pe scena vor mai urca TWIST OF FATE, VALAK, dar si BREATHELAST, ca aparitie speciala a serii.
Event: For The Wicked //Twist of Fate//Valak + special guest Breathelast

*For The Wicked - Get Your Strength Back: https://www.youtube.com/watch?v=_7d_lKZlAbI

*Breathelast - Valor of Knife Deep Conversation: https://www.youtube.com/watch?v=AlTjsBLgBuI

* Twist Of Fate - Unknown creature: https://www.youtube.com/watch?v=LGZ2fPHUhIE

* Valak - A Dying World: https://www.youtube.com/watch?v=964UEfAegz8

Pret Bilete
25 lei – Pre-sale
30 lei – Normal Ticket
30 lei – Acces (la intrare, in seara evenimentului)

FOR THE WICKED
Infiintata in Cluj Napoca in 2015, FOR THE WICKED a devenit rapid una dintre cele mai apreciate formatii metalcore din Romania. Combinand riffuri grele, voci agresive si refrene catchy, totul imbracat intr-o productie la standarde internationale, formatia are la activ doua EP-uri – "Trust Your Heart" (2015) si "II" (2016) si nenumarate concerte atat in tara in diverse orase sau la festivaluri cunoscute (Rockstadt Extreme Fest, Maximum Rock Festival, Posada Rock Fesival etc.), cat si in afara ei.
Dupa cateva turnee sustinute in Romania, in primavara anului 2017, For The Wicked se imbarca in primul sau turneu international, mai exact in Franta, alaturi de trupa franceza Ze Gran Zeft, in timp ce toamna lui 2017 ii prinde pe acestia in turneu european alaturi de Exist Immortal (UK), in tari precum Bulgaria, Grecia, Macedonia, Serbia, Ungaria.
For The Wicked a concertat de-a lungul timpului alaturi de trupe reprezentative scenei internationale precum Comeback Kid, Polar, Suicide Silence, Jinjer, Of Virtue, To Kill Achilles, Exist Immortal, Griever, Expectations si multe altele.

Follow For The Wicked
Facebook: www.facebook.com/weareforthewicked
Instagram: www.instagram.com/weareforthewicked
Bandcamp: weareforthewicked.bandcamp.com
YouTube: http://tinyurl.com/youtubeweareforthewicked

Dacă vreți să vă înscrieți la newsletterul METALHEAD și să aflați primii ce trupe mari vin în România, dați un click aici:
bit.ly/METALHEAD-Newsletter

Join the ranks ! LIKE us on Facebook