Hopes Die Last, Fall Against Fate si Scars Of A Story: Concert la Cluj-Napoca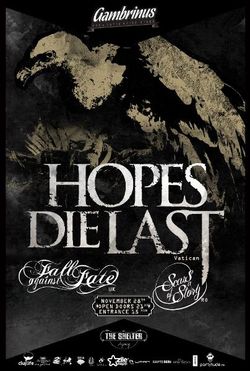 28 Noiembrie 2012
Cluj Napoca - GambrinusPub
Pret: 15 lei

THE SHELTER AGENCY & Gambrinus Pub prezinta miercuri, 28 noiembrie, un concert al trupelor:

HOPES DIE LAST
metalcore, post-hardcore, Vatican/Italia
http://www.hopesdielast.com/
http://www.youtube.com/HopesDieLastOfficial

FALL AGAINST FATE
metallic hardcore, metalcore, UK
http://www.fallagainstfate.com/
http://www.facebook.com/fallagainstfateUK

SCARS OF A STORY
post-hardcore , metalcore
https://www.myspace.com/scarsofastory
http://www.facebook.com/scarsofastory


HOPES DIE LAST
HDL este o trupa de post-hardcore din Vatican City, formata in 2004. Componenta trupei este Daniele Tofani (lead vocals), Marco "Becko" Calanca (clean vocals & bass), Marco Mantovani (guitar/backing vocals), Luigi Magliocca (guitar) si Ivan Panella (drums). Pana acum, Hopes Die Last au lansat doua albume si doua EP-uri. "If Not For Ourselves" este numele celui de-al doilea album al trupei, lansat gratuit pe site-ul trupei, www.fallagainstfate.com.

FALL AGAINST FAITH
Fall Against Fate s-au format in 2009 si, dupa o serie de concerte locale, au lansat albumul "If Not For Ourselves". Matt Greiner de la August Burns Red i-a caracterizat astfel: "Fall Against Fate fac exact ceea ce toate trupele tech metal actuale, insa de o mie de ori mai bine".


SCARS OF A STORY
Membrii trupei Scars of a Story se intalnesc pentru prima oara undeva pe la mijlocul lunii octombrie 2011. Ideea a pornit de la cei doi chitaristi, Vlad si Peter,care pun bazele primelor compozitii,ulterior alaturandu-se acestor idei Dany(bas), Bitzah(voce) si Cristi(tobe). Punctul comun al celor 5 membrii fiind dorinta de a aduce ceva nou scenei underground din Cluj-Napoca,ei provenind din alte trupe ca:Antidot,Stereofeelings si All One.Genul abordat se vrea a fi New age metal,Metalcore,Post Hardcore.

Dacă vreți să vă înscrieți la newsletterul METALHEAD și să aflați primii ce trupe mari vin în România, dați un click aici:
METALHEAD Newsletter
Ne gasesti si pe Instagram
f