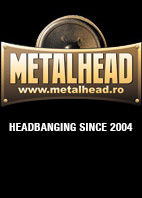 Stiri Concerte Bilete online Poze Artisti Tabulaturi chitara Versuri Radiouri Online Liste Forum METALHEAD Shop
Corrosion Of Conformity - Feed On videoclip
Feed On, noul videoclip semnat de grupul american Corrosion Of Conformity, poate fi urmarit mai jos.

Piesa este extrasa de pe noul album intitulat Megalodon, lansat pe piata in data de 13 noiembrie via Scion Audio/Visual (a.k.a. Scion A/V).

Tracklist-ul discului este:

01. Feed On
02. Priest Brains
03. The Megalodon
04. Strong Medicine Too Late
05. The Vulture

Cel mai recent album al trupei se numeste chiar Corrosion of Conformity si a fost lansat prin Candlelight Records pe 28 februarie 2012.
Comenteaza logat cu Facebook

Aboneaza-te la newsletter
Join the ranks ! LIKE us on Facebook