Biografie Counting Crows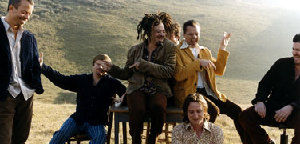 Trupa americana de rock alternativ
Counting Crows
a luat fiinta in 1991 in Berkeley, California. Au devenit cunoscuti publicului larg in 1994, odata cu aparitia albumului de debut,
August and Everything After
, pe care poate fi ascultata celebra piesa
Mr. Jones
. Printre influentele lor muzicale, membrii trupei Counting Crows citeaza R.E.M., Van Morrison, Bob Dylan si The Band.
Formatia a fost infiintata de vocalul Adam Duritz si de chitaristul Dave Bryson. Aparitia albumului de debut este urmata de un turneu alaturi de artisti precum Cracker, the Cranberries, Suede, Bob Dylan, Los Lobos, Jellyfish si Midnight Oil.
Al doilea album,
"Recovering the Satellites"
, apare in 1996. Stilul este mai agresiv decat cel intalnit pe albumul de debut, in parte datorita cooptarii unui nou chitarist, in persoana lui Dan Vickrey.
In vara lui 1997, trupa anuleaza un mare numar de concerte, din pricina unei probleme cu corzile vocale avute de Duritz.
In 1999 apare "This Desert Life", care inregistreaza cele mai mari vanzari din istoria trupei.
In 2002, Counting Crows scot cel de-al patrulea album de studio, "Hard Candy". Materialul include un cover dupa piesa solistei Joni Mitchell, "Big Yellow Taxi". In 2004, piesa "Accidentally in Love" apare pe coloana sonora a filmului animat Shrek 2.
In iunie 2006 apare "New Amsterdam: Live at Heineken Music Hall", un album live cu inregistrari din concertele sustinute in 2003.
Stil:
rock alternativ
Componenta:
Adam Duritz (voce, pian)
David Bryson (chitara)
Dan Vickrey (chitara)
David Immerglck (chitara, mandolina)
Jim Bogios (tobe)
Charlie Gillingham (clape)
Millard Powers (bass, pian)
Discografie:
August and Everything After (1993)
Recovering The Satellites (1996)
This Desert Life (1999)
Hard Candy (2002)
COUNTING CROWS
www.countingcrows.com
www.myspace.com/countingcrows