Biografie Cradle of Filth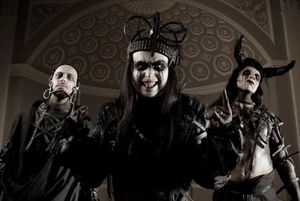 Britanicii de la Cradle of Filth s-au format in 1991, in componenta initiala continandu-i pe fostul vocal PDA si Feast on Excrement, Daniel Lloyd Davey, chitaristul Paul Ryan, fratele acestuia Benjamin la clape, basistul John Richard si tobosarul Darren Garden. Liderul trupei care si-a schimbat numele in Dani Filth, a fost de asemenea implicat in proiectul The Lemon Grove Kids, o trupa care isi lua titlul de la filmul horror al lui Ray Dennis Steckler.
Debutul l-au facut in 1992 cu demo-ul "Invoking The Unclean", iar la scurt timp a fost adaugat chitaristul Robin Graves, care mai cantase in Malicious Intent si Nightbreed. Tot in acest an au lansat o caseta impartita cu grupul Malediction din Middlesborough care se numea "A Pungent And Sexual Miasma". Tot in 1992 au lansat un alt demo de 7 piese, intitulat "Orgiastic Pleasures Foul".
Dupa o incercare nereusita de a lansa un prim album, Cradle of Filth au lansat al treilea demo "Total Fucking Darkness", in decembrie 1993, la Cacophonous Records, care va pregati calea pentru lansarea in februarie 1994 a albumului de debut, "The Principle Of Evil Made Flesh". Line-upul impreuna cu rolurile fiecarui membru erau dupa cum chiar ei s-au intitulat: Dani Filth - "Dark Immortal Screams", Paul Allender - "Despondent Night Chords", Benjamin Ryan - "Gothic Vampiric Overtures", Robin Graves - "Nocturnal Pulse", Paul Ryan - "Satanic War Noise" si Nicholas Barker - "Winter Evening Storms".
In turneul din ianuarie 1994 din Europa, Cradle of Filth au cantat in deschidere la At The Gates, Anathema si Emperor. Primul bootleg Cradle of Filth a aparut in 1995, intitulat simplu "Live in Berlin '95". Cel de-al doilea album, "V'Empire ...Or Dark Fairytales In Phallustein" contine de data aceasta alte doua voci feminine: Sarah Jezebel Deva si Danielle Cneajna Cottington.
Albumul "Dusk And Her Embrace - Litanies Of Damnation, Death And The Dark Erotic", lansat in august 1996, i-a ridicat in scena mainstream, aducandu-le vanzari foarte mari la nivel global. In 1997 trupa a scos pe piata doua bootleg-uri, si anume "I Raped The Virgin Mary And Hung The Bastard Christ" si "Sodomizing The Virgin Vamps".
In luna mai, 1998 cel de-al patrulea album al trupei, "Cruelty And The Beast" a fost lansat. Cu o tema clara, materialul se concentreaza pe povestea figurii isorice Erzebeth Bathory. Este de mentionat faptul ca formatia a adus-o pe actrita Ingrid Pitt, care a interpretat-o in 1971 pe contesa in filmul horror "Countess Dracula", ca invitata pentru pasajele narate de pe album. Au urmat si editii limitate ale CD-ului, care includeau cinci piese bonus, printre care coveruri dupa piesele "Black Metal" de la Venom, "Hallowed By Thy Name" de la Iron Maiden, "Sodomy And Lust" de la Sodom, alaturi de melodiile noi "Lustmord And Wargasm (The Relicking Of Cadaverous Wounds)" si "Twisting Further Nails(The Cruci-Fixion Mix)".
Tobosarul Barker a parasit trupa la inceputul anului 1999 pentru a se alatura unui alt grup celebru black metal, Dimmu Borgir, plecarea lui fiind aparent motivata de o colaborare de suuces cu Peter Tagtgren de la Hypocrisy, si Shane Embury si Jesse Pintado de la Napalm Death.
In vara anului 2001 trupa a facut un cover dupa piesa "The Fire Still Burns" de la Twisted Sister pentru albumul tribut "Twisted And Strange". In 2001 iese albumul "Bitter Suites To Succubi", singurul material lansat succesiv de formatie cu un line-up stabil.
In 2003 este lansat "Damnation And A Day" ce are ca tema izgonirea din Rai a lui Lucifer. Trupa semneaza cu casa de discuri Roadrunner Records pentru urmatorul album intitulat "Nymphetamine", care apare in 2004. Albumul aduce un sound mai soft decat precedentele, orientat spre gothic, pierzand o mare parte din fanii mai vechi dar castigand altii. La inceputul anului 2006 formatia a intrat in studiourile Chapel din Lincolnshire cu producatorul Rob Caggiano pentru a incepe inregistrarile la noul album, "Thornography", care avea printre altele contributia lui Ville Valo de la H.I.M. la piesa "The Byronic Man".
In noiembrie 2006 Adrian Erlandsson a parasit Cradle Of Filth, pentru a se dedica in totalitate celor doua proiecte separate, Needleye si Nemhain. In aprilie 2007 a fost anuntata cartea "The Gospel of Filth" scrisa de Dani Filth impreuna cu specialistul in ocultism Gavin Baddeley.
Stil:
heavy metal, extreme gothic metal
Componenta:
Dani Filth - voce
Paul Allender - chitara
Charles Hedger - chitara
Dave Pybus - bass
Martin Skaroupka - tobe
Sarah Jezebel Deva - voce
Rosie Smith - clape
Discografie:
The Principle of Evil Made Flesh - (1994)
Vempire or Dark Faerytales in Phallustein - (1996)
Dusk and Her Embrace - (1997)
Cruelty and the Beast - (1998)
>From the Cradle to Enslave - (1999)
Midian - (2000)
Bitter Suites to Succubi - (2001)
Lovecraft and Witch Hearts - (2002)
Live Bait for the Dead - (2002)
Damnation and a Day - (2003)
Nymphetamine - (2004)
Thornography - (2006)
CRADLE OF FILTH
www.cradleoffilth.com
www.myspace.com/cradleoffilth