Biografie Destruction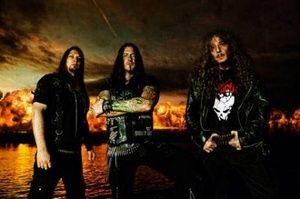 Destruction
este o trupa germana de thrash metal formata in sudul Germaniei, in 1982. Initial cei trei membri activau sub numele Kinght of Demon. Destruction au inregistrat primul demo, Bestial Invasion of Hell, in 1984. Alaturi de Kreator si Sodom, formatia apartine celebrului trio thrash metal..
Componenta initala i-a inclus pe Marcel Schimmer, Tommy Sandmann si Mike Sifinger. Curand, trupa a adoptat numele Destruction, ulterior lansand doua demo-uri ce au garantat un contract cu Steamhammer Crecords, sub egida carora au lansat EP-ul Sentence of Death.
Primul full-length a fost lansat in 1985 si s-a intitulat Infernal Overkill. Liderul Marcel Schimmer a fost rugat sa paraseasca trupa datorita divergentelor creative. In perioada exploziei grunge (anii 90), Destruction au pierdut contractul cu casa de discuri, asa ca au fost nevoiti sa lanseze doua albume din fonduri propii. In 1999, Marcel Schimmer s-a intors in Destruction, asa ca lucrurile au revenit la normal. A urmat un contract cu Nuclear Blast, pe care l-au rupt in 2005 autnci cand au semnat cu AFM Records.
Stil:
thrash metal
Componenta:
Marcel Schirmer - voce/bas
Mike Sifringer - chitara
Marc Reign - tobe
Discografie:
Sentence of Death (EP) (1984)
Infernal Overkill (1985)
Eternal Devastation (1986)
Mad Butcher (EP) (1987)
Release from Agony (1988)
Cracked Brain (1990)
Destruction EP (1994)
Them Not Me EP (1995)
The Least Successful Human Cannonball (1998)
All Hell Breaks Loose (2000)
The Antichrist (2001)
Metal Discharge (2003)
Inventor of Evil (2005)
Thrash Anthems (2007)
DESTRUCTION
www.destruction.de
www.myspace.com/officialdestruction

Join the ranks ! LIKE us on Facebook