Biografie Dream Theater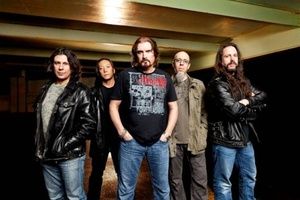 Trupa americana de metal progresiv Dream Theater a luat fiinta in 1985 sub numele de Majesty. Formatia a fost infiintata de
John Petrucci
, Mike Portnoy si John Myung, studenti la acea vreme la Institutul de Muzica din Boston.
Cei trei fac si in prezent parte din trupa pe care au fondat-o, alaturi de solistul James LaBrie si claparul Jordan Rudess.
In 1989 apare albumul de debut intitulat "When Dream and Day Unite".
Dupa o auditie, in 1991, trupa il coopteaza pe
Kevin James LaBrie
, pe atunci solistul formatiei de glam rock Winter Rose. Un an mai tarziu apare albumul "Images and Words", urmat de filmarile pentru videoclipul "Another Day", care apare si ca single. Piesa care are cel mai mare succes de pe aacest material este "Pull Me Under". In consecinta,
Dream Theater
filmeaza un videoclip si pentru aceasta piesa, ca si pentru "Take the Time".
"Awake", cel de-al treilea album de studio, apare in 1994. Lansarea este urmata de un turneu.
Un an mai tarziu apare EP-ul "A Change of Seasons", urmat de "Falling Into Infinity", care primeste atat critici pozitive cat si negative din partea fanilor. Cu toate ca piese precum "Hollow Years" si "You Not Me" pastreaza traditia metalului progresiv, per total Dream Theater se indrepta cu acest album spre un sound mai mainstream. Din punct de vedere comercial, albumul este mai degraba un esec decat o reusita.
"Falling into Infinity" este lansat in 1997. Este considerat unul dintre cele mai accesibile materiale Dream Theater
Doi ani mai tarziu apare "Metropolis Pt. 2: Scenes from a Memory", un album concept, care spune povestea lui Nicholas, care descopera viata sa anterioara, implicand iubire, crima, infidelitate.
Acesta este urmat de "Six Degrees of Inner Turbulence" si "Train of Thought".
Ultimul album Dream Theater, "Systematic Chaos", a aparut in iunie 2007 la Roadrunner Records.
Stil:
progressive metal
Componenta:
James LaBrie voce
John Myung bass
John Petrucci chitara, voce
Mike Portnoy baterie
Jordan Rudess clape
Discografie:
When Dream and Day Unite (1989)
Images and Words (1992)
Awake (1994)
A Change of Seasons (EP) (1995)
Falling into Infinity (1997)
Metropolis Pt. 2: Scenes from a Memory (1999)
Six Degrees of Inner Turbulence (2002)
Train of Thought (2003)
Octavarium (2005)
Systematic Chaos (2007)
DREAM THEATER
www.dreamtheater.net
www.myspace.com/dreamtheater