Biografie Eternal Tears Of Sorrow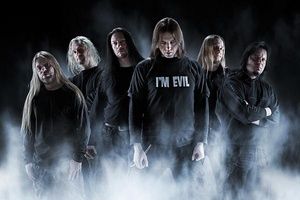 Formatia de melodic death metal finlandeza Eternal Tears Of Sorrow a luat nastere in anul 1994, in Northern Ostrobothnia, Finlanda. Desi death metalul melodic este considerat genul principal in care se incadreaza trupa, exista si unele elemente specifice gothic metalului pe albumele lor.
Membrii fondatori sunt Jarmo Puolakanaho, Altti Vetelainen si Olli-Pekka Torro. Inainte de a se numi Eternal Tears Of Sorrow, proiectul s-a intitulat Andromeda. Numele trupei a fost schimbat in 1995.
Albumul de debut s-a intitulat "Sinner's Serenade", nefiind foarte cunoscut in afara granitelor Finlandei. Acest lucru se petrece de abia cu cel de-al treilea material de studio, "Chaotic Beauty", din anul 2000, care este promovat printr-un turneu alaturi de formatiile finlandeze Nightwish si Sinergy.
Al patrulea album, ce apare un an mai tarziu, "A Virgin and a Whore", ajunge in topul celor mai bine vandute albume ale anului.
In ianuarie 2003, trupa anunta ca se desparte. Dupa doi ani in care membrii trupei au stat departe de activitatea muzicala, Eternal Tears Of Sorrow s-au intors si au inregistrat un nou material, "Before the Bleeding Sun", care apare un an mai tarziu, in luna august.
Stil:
melodic death metal, gothic metal
Componenta:
Altti Vetelainen (voce, bass)
Jarmo Puolakanaho (chitara)
Risto Ruuth (chitara)
Janne Tolsa (clape)
Petri Sankala (tobe)
Discografie:
Sinner's Serenade (1997)
Vilda Mannu (1998)
Chaotic Beauty (2000)
A Virgin and a Whore (2001)
Before the Bleeding Sun (2006)
ETERNAL TEARS OF SORROW
eternaltears.info
www.myspace.com/etos1