Stiri Fall Of The Idols
Scrie si tu pe site cu Citizen Journalism.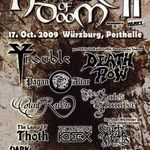 luni, sep 28, 2009 - Fall Of The Idols si Atlantean Kodex s-au retras de la editia din acest an a festivalului Hammer Of Doom, fiind inlocuiti de trupa germana Dawn Of Winter. Evenimentul va avea loc in data de 17 octombrie in Wurzburg, Germania....