Biografie Fall Out Boy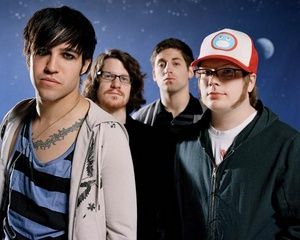 Membrii trupei Fall Out Boy au decis sa infiinteze o formatie in anul 2000, pe cand locuiau inca in Chicago.
Solistul si chitaristul Patrick Stumph, basistul Peter Wentz, tobosarul Andrew Hurley si chitaristul Joseph Trohman au fost mai mult sau mai putin familiarizati cu muzica underground. Hurley cantase pentru Racetraitor, trupa metalcore atat de controversata in comunitatea hardcore.
Fall Out Boy s-a folosit de linia melodica specifica hardcore pentru a dezvolta sunete punk care sa se integreze cu subtilitate stilului. Au debutat in 2001 cu un demo, urmand ca in mai 2002 sa lanseze un LP in colaborare cu Project Rocket.
Trupa a revenit in ianuarie cu Fall Out Boy Evening Out With Your Girl, dupa care a semnat un contract cu Gainesville, casa de discuri la care lucra Vinnie Balzano de la Less Then Jake. A primit de asemenea o oferta de la Island Records pentru urmatorul album, producatorii hotarand sa finanteze Take This to Your Grave, care s-a realizat la studioul Smart al lui Butch Vig, din Madison, in colaborare cu Sean O'Keefe (Lucky Boys Confusion, Motion City Soundtrack). Grave a aparut in mai 2003 si Fall Out Boy a reusit sa castige inimile fanilor prin concertele sustinute.
FALL OUT BOY
www.falloutboyrock.com
www.myspace.com/falloutboy