Biografie Hanoi Rocks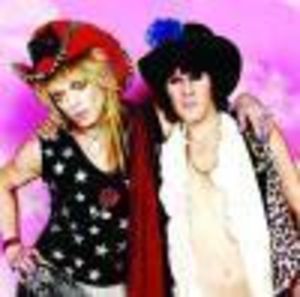 Hanoi Rocks este o trupa finlandeza formata in 1979. Printre influente muzicale, se numara
New York Dolls
, The Stooges si The Rolling Stones. Muzica include elemente de blues, punk, garage rock si glam rock. Formatia este catalogata drept glam metal, datorita imaginii pe care trupele americane din anii 80 au adoptat-o.
Jano Rocks se numara printre principalele influente ale trupelor
Guns N' Roses
si Manic Street Preachers. In 1985 tobarul trupei a decedat, asa ca restul membrilor au decis sa puna capat activitatii muzicale.
In 2002, Monroe si McCoy au reformat formatia, cu doi membri din Electric Boys. Pe data de 8 august 2007, Hanoi Rocks au lansat single-ul This One's For Rock'n'Roll. Ulterior, Monroe a anuntat ca noul album,
Street Poetry
, este programat pentru luna septembrie 2007.
Stil:
glam punk/sleaze rock
Componenta:
Michael Monroe - voce
Andy McCoy - chitara/voce
Conny Bloom - chitara
Andy "A.C." Christell - bas
Lacu - tobe
Discografie:
Bangkok Shocks, Saigon Shakes, Hanoi Rocks (1981)
Oriental Beat (1982)
Self Destruction Blues (1982)
Back to Mystery City (1983)
All Those Wasted Years (live) - (1984)
Two Steps from the Move (1984)
Rock & Roll Divorce (live) - (1985)
Twelve Shots on the Rocks (2002)
Another Hostile Takeover (2005)
Street Poetry (2007)
HANOI ROCKS
www.hanoirocks.info
www.myspace.com/hanoirocksofficial