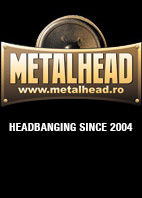 Stiri Concerte Bilete Poze Artisti Tabs & Chords Versuri Radio Online Liste Magazin de Muzica
HELLHAMMER
Biografie
Country: Switzerland Label: Noise Records Website: www.hellhammer.org Formed in: 1982 Disbanded in: 1984 1982-1984 Thrash metal 1982-1984 Black metal Line-up Former musicians: 1982 Peter Stratton - drums 1982 Mike "Grim Decapitator" Owens - drums 1982 Vince "Dei Infernal" Garetti - guitars 1982-1983 Steve "Savage Damage" Warrior - bass 1982-1984 Thomas Gabriel "Warrior" Fischer - vocals, guitar 1982-1984 Martin Eric Ain - bass 1983 Steve "Evoked Damnator" Priestley - drums 1983-1984 Bruce "Denial Fiend" Day - drums Discography......
Toata biografia HELLHAMMER
Stiri cu HELLHAMMER
A trecut ceva timp de la actualizarea precedenta, dar suntem siguri ca asteptarea a meritat, pentru ca acum avem onoarea de a anuta ca Pentacle, unul din stalpii scenei de death metal din Olanda, precum si formatia germana de black/death/thrash metal Insulter se vor alatura afisului Old Grave Fest 2016. Acum mai...


Tom Gabriel Fischer, fostul solist HELLHAMMER / CELTIC FROST si actualmente membru Triptykon, va lansa o carte de 288 de pagini intitulata Only Death Is Real: An Illustrated History of Hellhammer and Early Celtic Frost 1981-1985. Cartea va fi disponibila incepand cu luna noiembrie sub egida...


Hellhammer a anuntat pe site-ul CELTIC FROST , ca va lansa doua demouri menite sa capteze adevarata esenta a trupei. Cele doua materiale au fost re-masterizate sub supravegherea lui Tom Gabriel Fisher. Inregistrarile originale dateaza din 1983. De asemenea, HELLHAMMER va include si cateva poze din perioada...


Top Versuri HELLHAMMER

Join the ranks ! LIKE us on Facebook