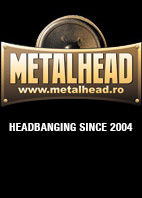 Stiri Concerte Bilete Poze Artisti Tabs & Chords Versuri Radio Online Liste Magazin de Muzica
Versuri I Shalt Become - Like A Lamb To The Slaughter...
The maudlin plea of the penitent
And the crystal skull persuasion
A warning of proverbs and hyperbole

Oh, sing the song of attrition!

Tripping through the light fantastic
The world twisting time
Bankrupted by a poisoned chalice.

There are days and there are days...

Join the ranks ! LIKE us on Facebook