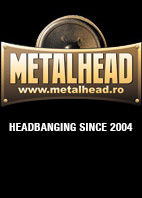 Stiri Concerte Bilete Poze Artisti Tabs & Chords Versuri Radio Online Liste Forum Magazin de Muzica
Biografie Kamelot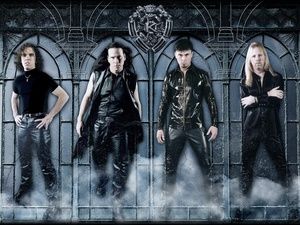 Kamelot
este o trupa de power metal ce include elemente de symphoni metal. Trupa provine din Florida si a fost fondata de Thomas Youngblood si Richard Warner.
In 1994, trupa a semnat cu Noise Records, pentru lansarea albumului de debut, Eternity. Urmatorul album, Dominion, a fost lansat in 1997. Ulterior, Richard Warner si Mark Vanderbilt au fost inlocuiti de tobarul Casey Grillo si vocalul Roy Khan.
Cu acesti doi membrii, Kamelot au lansat Siege Perilous, in 1998. Noul line-up a sustinut un turneu in Europa, iar 12 luni mai tarziu s-au intors in studio pentru a inregistra The Fourth Legacy.
In vara lui 2000, Kamelot au sustinut turneul New Allegiance Tour. La cateva luni distanta, trupa a lansat albumul Karma. Al 6-lea album, Epica, a fost lansat in 2003. Pentru a promova albumul, Kamelot au pornit in turneu alaturi de
At Vance
. Al 7-lea album, The Black Halo a aparut in 2005, avand ca tema principala, legenda lui Fust. The Black Halo World Tour 2005, a fost sutinut de Kamelot,
Epica
si Kotipelto.
In 2005 au aparut si primele clipuri, The Haunting (Somewhere in Time) si
March of Mephisto
. Pe 5 octombrie, Oliver Palotai s-a alaturat formatiei. In 2006, trupa s-a intors in studio pentru a inregistra Ghost Opera. Albumul a fost lansat pe 1 iunie, 2006. O editie limitata digipack, include un bonus DVD.
Stil:
power metal/symphonic metal
Componenta
:
Roy Khan - voce
Thomas Youngblood - chitara
Glenn Barry - bas
Casey Grillo - tobe
Oliver Palotai - clape
Discografie:
Eternity (1995)
Dominion (1997)
Siege Perilous (1998)
The Fourth Legacy (1999)
Karma (2001)
Epica (2003)
The Black Halo (2005)
Ghost Opera (2007)
KAMELOT
www.kamelot.com
www.myspace.com/kamelot

Aboneaza-te la newsletter
Join the ranks ! LIKE us on Facebook