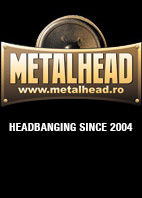 Stiri Concerte Bilete online Poze Artisti Tabulaturi chitara Versuri Radiouri Online Liste Forum METALHEAD Shop
Stiri Killswitch Engage p13
Scrie si tu pe site cu Citizen Journalism.

luni, oct 9, 2006 - Killswitch engage este una din cele mai promitatoare trupe din noul val de American metal. Aparut in 28 februarie 2004, The end of heartache este un hibrid intre hardcore si metal-ul modern. Piese ca A Bid Farewell, Rose Of Sharyn si...

miercuri, sep 27, 2006 - Mult asteptatul album KILLSWITCH ENGAGE se pare ca se apropie de data lansarii. Deocamdata se munceste din greu la el. In schimb puteti vedea coverul sau pe site-ul Roadrunner aici . Primul single de pe album se va chema This Fire...

Aboneaza-te la newsletter
Join the ranks ! LIKE us on Facebook