Biografie King Diamond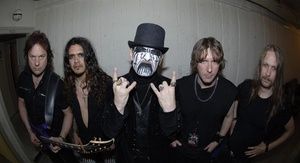 Trupa
King Diamond
a luat fiinta in 1985, dupa ce solistul King Diamond a parasit Mercyful Fate. Trupei i s-au alaturat si alti membrii din Mercyful Fate.
Cariera formatiei incepe cu albumul Fatal Portrait, urmat in 1987 de Abigail. Acesta din urma spune povestea unei case din secolul al 18-lea care ascunde secrete intunecate, deschizand seria povestirilor horror care stau la baza albumelor King Diamond.
Abigail este urmat de Them si Conspiracy, care spun alta poveste a unei case bantuite de demoni si a unei batrane care bea ceai preparat din sangele copiilor.
Dupa plecarea bateristului Mikkey Dee, trupa lanseaza albumul The Eye. Pete Blakk si Hal Patino sunt concediati la scurt timp, si inlocuiti cu Mike Wead si Sharlee D'Angelo.
The Spider's Lullabye si The Graveyard sunt inregistrate intr-un line-up diferit, cu exceptia
chitaristului Andy LaRocque.
In anul 2000, King Diamond inregistreaza un album concept intitulat House of God, avand ca tema simbolismul religios. Doi ani mai tarziu este lansat Abigail II: The Revenge, iar in 2003 The Puppet Master.
Acesta din urma este urmat de un turneu, din care vor fi incluse fragmente pe albumul live Deadly Lullabyes Live.
Cel mai recent material King Diamond se intituleaza Give Me Your Soul...Please si a aparut in 2007.
Stil
: heavy metal
Componenta
:
King Diamond - voce, chitara, clape
Andy LaRocque - chitara, clape
Mike Wead - chitara
Hal Patino - bass
Matt Thompson - baterie
Discografie
:
Fatal Portrait (1986)
Abigail (1987)
Them (1988)
Conspiracy (1989)
The Eye (1990)
The Spider's Lullabye (1995)
The Graveyard (1996)
Voodoo (1998)
House of God (2000)
Abigail II: The Revenge (2002)
The Puppet Master (2003)
Give Me Your Soul... Please (2007)
KING DIAMOND
www.covenworldwide.org
www.myspace.com/kingdiamond