Biografie Marilyn Manson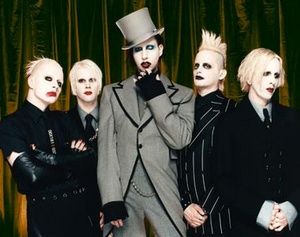 Brian Hugh Warner este cunoscut sub numele de Marilyn Manson, un muzician american cunoscut pentru imaginea socanta pe care o promoveaza, concertele sale si versurile incarcate cu mesaj. Numele de scena este o imbinare intre Marilyn Monroe si Charles Manson, probabil cel mai socant duo din cultura americana.

Inainte de Marylin Manson, Brian a fost implicat in 2 proiecte: Satan on Fire si Mrs. Scabtree. Acesta a fotmat Marilyn Manson & the Spooky Kids, in anul 1989. Albumul de debut, Portrait of an American Family a aparut in 1994, urmat de catre Smells Like Children, lansat in 1995.
Acest material le-a adus primul succes international, asigurat de catre piesa Sweet Dreams (Are Made of This), un cover al trupei Eurythmics. Antichrist Superstar a insemnat un succes mult mai mare.

In 1998, Manson a lansat Mechanical Animals, un material puternic influentat de catre David Bowie. Discul a insemnat si o schimbare de imagine pentru trupa, imbinand multe elemente vizuale ce provin din zona fashion rock. In 2000, a fost lansat Holy Wood (In the Shadow of the Valley of Death), un disc ce a reprezentat o intoarcere la radacini, mai precis la vechiul stil Marilyn Manson.

In 2003, a aparut The Golden Age of Grotesque, un disc cu o profuzime lirica mult mai intensa decat precedentul material. Albumul a avut parte de un debut direct pe locul 1 in Billboard. Al 5-lea album, Eat Me, Drink Me, a fost lansat pe 5 iunie, 2007 si a debutat pe locul 8 in America, cu peste 88.000 de exemplare vandute.
Dupa o pauza de studio ce a durat 4 ani, Eat Me, Drink Me a marcat inca o schimbare pe plan muzical.

In 2009 urmeaza The High End Of Low, al saptelea material discografic din cariera artistului.

Stil: Alternative metal

Componenta:
Marilyn Manson – voce
Twiggy Ramirez – chitara/bass
Chris Vrenna – clape
Ginger Fish – tobe/percutie
Andy Gerold – bass

Discografie:
Portrait of an American Family
Antichrist Superstar
Mechanical Animals
Holy Wood (In the Shadow of the Valley of Death)
The Golden Age of Grotesque
Eat Me, Drink Me
The High End Of Low

MARILYN MANSON
www.marilynmanson.com
www.myspace.com/marilynmanson