Intre 3 si 5 iunie 2016, METALHEAD va invita la a cincea editie a festivalului METALHEAD Meeting, o editie aniversara cu un lineup pe masura. Festivalul va avea loc la Arenele Romane din Bucuresti si incepand cu ora 17 pana in zori, va veti putea bucura de unele dintre cele mai tari nume ale scenei internationale de metal.
12 ore de muzica live pe zi, zi de zi, la cel mai titrat fetsival de metale din Romania !
Trupa britanica de ­punk-rock, THE EXPLOITED va concerta la festival si se alatura ca headlineri elvetienilor de la ELUVEITIE, thrasherilor germani de la KREATOR, trupei britanice de power metal, DRAGONFORCE, trupei olandeze de symphonic metal Delain si grecilor de la Rotting Christ .
Alaturi de the Exploited, Metalhead Meeting anunta si prezenta trupelor: Dirty Shirt (RO) , Khadaver (SVK) , Spartan (NL) , Other Eyes Wise (UK) , Fear of Domination (FIN) , Winter's Verge (CY) , Bleeding Utopia (SWE), Lightless Moor (IT) , Mechanical God Creation (IT), Tears of Martyr (SP) si The Colony (UK)
Recent, lineup-ul festivalului s-a imbogatit si cu nume precum Mantar (Germania), Infernal Tenebra (Croatia), Xaon (Elvetia), Velian (Bulgaria), Melancholy (Rusia), Perihelion (Ungaria), Eufobia (Bulgaria) si Akral Necrosis (Romania).
Multe alte trupe vor fi anuntate in curand !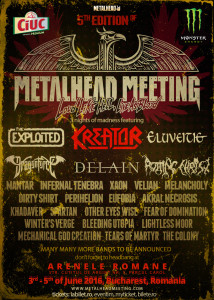 DESPRE THE EXPLOITED
THE EXPLOITED sunt o trupa scotiana care combina ritmurile de punk rock cu crossoverul, hardcore-punk-ul si thrash-ul, pe alocuri. Formata in Edinburgh de Stevie Ross si Terry Buchanan in 1979, trupa a intrat in istorie pentru emblematicul album "Punk's Not Dead", unul dintre cele opt albume scoase in cei 35 de ani de activitate dar si pentru puternicele mesaje sociale.
The Exploited este considerata una dintre cele mai reprezentative trupe ale miscarii punk rock fiind si pionierii valului muzical UK82 care a invadat Marea Britanie in anii 80. Influentati de Sex Pistols, trupa a influentat la randul lor nume precum Discharge, SOD, Agnostic Front sau Anti-Flag.
O trupa emblema pentru miscarea punk-rock modinala, The Exploited canta in premiera la Bucuresti unde vor aduce la Arenele Romane hituri precum "Beat The Bastards", "F*ck the system", "Beat the Bastards", "Don't `blame me" sau "Troops of Tomorrow".
DESPRE METALHEAD MEETING
Dupa ce in editiile trecute ati vazut live trupe precum: Sepultura, Moonspell, Satyricon, Dark Funeral, The Sirens, Amorphis, Paradise Lost, Finntroll, Turisas, Heidevolk, Primordial, Arkona sau Bloodbath, este momentul ca in 2016 sa sarbatorim 5 ani de METALHEAD Meeting . Cu un focus setat pe concerte de calitate pentru un public premium, festivalul doreste sa ofere o experienta celor prezenti la eveniment si nu doar niste simple concerte.
ABONAMENTE
Abonamentele costa vor costa 140 respectiv 170 de lei in prima perioada de presale, pana pe 2 aprilie, respectiv 150 si 190 pana pe 15 mai si 160 si 200 dupa 15 mai si in perioada festivalului.
Abonamentele Golden Circle sunt limitate la 700 de persoane in total, capacitatea Arenelor Romane fiind de peste 6500 de persoane. Daca in 2015 am avut peste 17.000 de spectatori in cele 4 zile de festival, Metalhead Meeting isi seteaza ca obiectiv sa depaseasca in 2016 acest record de audienta si daca nu va reusi atunci va compensa prin calitate.
Abonamentele se gasesc in format electronic pe www.iabilet.ro si in format fizic in retelele iaBilet, Eventim, Myticket si Bilete.ro (locatii fizice in taota tara: Muzica, Metrou Unirii1, IQ BOX, Say Shops, Perfect Tour, Senia, terminalele ZebraPay, Diverta, Vodafone, Orange, Germanos, Carturesti, Humanitas, Sala Palatului, oficiile Postei Romane, inMedio etc..)
METALHEAD Meeting – "Our passion, they wouldn't understand"
Arenele Romane – Strada Cutitul de Argint, nr. 3, Sector 4, Bucuresti, in Parcul Carol
O productie METALHEAD si BestMusic Live Concerts
Facebook event: www.facebook.com/events/1987459181392847/