Stiri Monsters Of Folk
Scrie si tu pe site cu Citizen Journalism.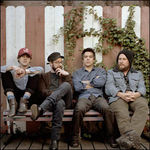 vineri, oct 23, 2009 - Supergrupul Monsters Of Folk, compus din Conor Oberst, Mike Mogis, M. Ward si Jim James, au anuntat prelungirea primului lor turneu impreuna din ultimii 5 ani. Monsters Of Folk au mai adaugat cateva date pe lista de concerte...

Join the ranks ! LIKE us on Facebook