Biografie My Chemical Romance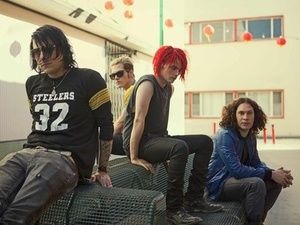 My Chemical Romance
sunt o trupa de rock alternativ infiintata in 2001 in Belleville, New Jersey, Statele Unite. Membrii actuali sunt Gerard Way, Ray Toro, Frank Iero, Mikey Way si Bob Bryar.
In 2002, My Chemical Romance scot albumul de debut intitulat
I Brought You My Bullets
,
You Brought Me Your Love
. Materialul le aduce un contract cu casa de discuri Reprise Records si in 2004 apare albumul Three Cheers for Sweet Revenge.
La inceputul anului 2005, formatia pleaca in turneul Taste of Chaos, ca oppening act pentru
Green Day
, turneu in care acestia din urma isi promovau albumul American Idiot. In acelasi an, colaboreaza cu The Used pentru un cover al piesei Under Pressure, interpretata initial de Queen si David Bowie.
In martie 2006 apare DVD-ul
Life on the Murder Scene
, urmat de un nou album de studio, The Black Parade, care initial se pare ca trebuia sa se numeasca The Rise and Fall of My Chemical Romance. Lansarea este urmata de turneul The Black Parade World Tour, care debuteaza in februarie 2007, alaturi de Muse si Rise Against.
Mikey Way
paraseste trupa in aprilie 2007 si este temporal inlocuit de Matt Cortez. In august, Way se intoarce si are o aparitie live alaturi de My Chemical Romance.
Stil:
rock alternativ/pop punk
Componenta:
Gerard Way - voce
Ray Toro - chitara
Frank Iero - chitara, voce
Mikey Way - bass
Bob Bryar - baterie
Discografie:
I Brought You My Bullets, You Brought Me Your Love (2002)
Three Cheers for Sweet Revenge (2004)
The Black Parade (2006)
MY CHEMICAL ROMANCE
www.mychemicalromance.com
www.myspace.com/mychemicalromance