Biografie Necrodeath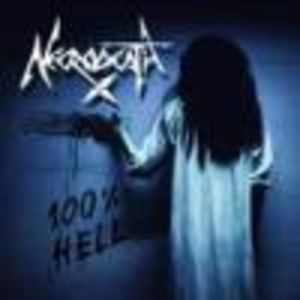 Trupa italiana de thrash/black metal Necrodeath a luat fiinta in anul 1984 sub numele de
Ghostrider
. Printre formatiile care au influentat muzica
Necrodeath
se numara
Slayer
, Kreator, Black Sabbath, Bathory si Venom. Componenta initiala Necrodeath consta din: Claudio (chitara), Peso (baterie), Ingo (voce) si Paolo (bass).
Primul material lansat de formatia italiana a fost demo-ul The Shining Pentagram, pe care se regasesc influente Slayer, Kreator si
Bathory
. Demo-ul format din 4 piese este urmat de doua albume, Into the Macabre in 1987 si Fragments of Insanity in 1989.
Dupa inregistrarea acestuia din urma, Necrodeath se despart. Chitaristul Claudio si bateristul Peso reinfiinteaza trupa in 2000. Ingo este inlocuit de Flegias la voce, iar John devine noul basist Necrodeath.
Mater of All Evil insumeaza influente din discografiile Slayer, Possessed, Kreator, Destruction, Sodom, Bathory, Dark Angel. Lansarea este urmata de o serie de concerte live, incluzand aparitii in cadrul festivalurilor No Mercy si Gods Of Metal.
In 2001 apare Black as Pitch, care contine si piesa The Flag, o versiune noua a piesei de pe albumul de debut Into The Macabre. In 2006 este lansat 100% Hell, considerat cel mai divers album Necrodeath pana in prezent.
Cel mai recent material Necrodeath se intituleaza Draculea, si a fost lansat in octombrie 2007 la Scarlet Records. Printre formatiile care ii citeaza pe Necrodeath ca influentandu-le propria muzica se numara Cradle of Filth, Cannibal Corpse,
Immortal
, Brutal Truth si At the Gates.
Stil:
thrash/black metal
Componenta:
Flegias - voce
Pier Gonella - chitara
John - bass
Peso - baterie
Discografie:
Into the Macabre (1987)
Fragments of Insanity (1989)
Mater of All Evil (1999)
Black as Pitch (2001)
Ton(e)s of Hate (2003)
20 Years of Noise (2005)
100% Hell (2006)
Draculea (2007)
NECRODEATH
www.necrodeath.net
www.myspace.com/necrodeath100x100