Biografie Offspring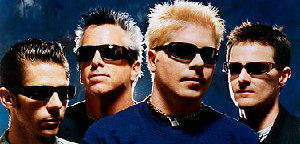 The Offspring s-au infiintat in 1984 in Huntington Beach, California.
Alaturi de formatii precum
Green Day
sau
Rancid
, The Offspring sunt considerati ca fiind artistii care au resuscitat interesul pentru muzica punk in anii 90.
In prezent, se numara printre cele mai bine vandute formatii punk din toate timpurile.
Stil
: punk
Componenta
:
Dexter Holland voce, chitara
Noodles chitara, voce
Greg K. bass, voce
Pete Parada tobe
Discografie
:
The Offspring (1989)
Ignition (1992)
Smash (1994)
Ixnay on the Hombre (1997)
Americana (1998)
Conspiracy of One (2000)
Splinter (2003)
Rise and Fall, Rage and Grace (2008)
THE OFFSPRING
www.offspring.com