Stiri ONE MAN ARMY AND THE UNDEAD QUARTET
Scrie si tu pe site cu Citizen Journalism.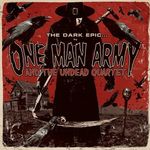 luni, ian 17, 2011 - One Man Army And The Undead Quartet au filmat recent un videoclip pentru piesa Skeletons Of Rose Hall, extrasa de pe noul album intitulat The Dark Epic. Materialul va fi lansat pe piata in data de 25...