Stiri Onward To Olympas
Scrie si tu pe site cu Citizen Journalism.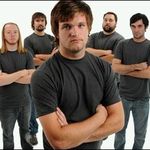 luni, mai 30, 2011 - Onward To Olympas, Before There Was Rosalyn, Creations si The Burial vor porni intr-un turneu intitulat Dropping The Hammer. Datele anuntate sunt: 6/24 San Antonio, TX @ The White Rabbit 6/25 Dallas, TX...