Stiri Panic At The Disco p4
Scrie si tu pe site cu Citizen Journalism.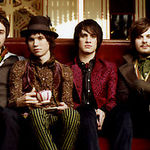 joi, nov 4, 2010 - Panic At The Disco au anuntat ca urmatorul lor album va fi lansat in martie 2011. Cel mai recent album al trupei a fost lansat in 2008, sub numele de " Pretty. Odd . ", care a insemnat un real succes pentru Panic At The...