Stiri Panic At The Disco p4
Scrie si tu pe site cu Citizen Journalism.
marţi, iun 29, 2010 - Solistul Ryan Ross si basistul Jon Walker (ex-Panic At The Disco) au format o noua trupa, The Young Veins. Albumul lor de debut se cheama " Take A Vacation! " si se doreste a fi, dupa cum spun cei doi, "ceea ce...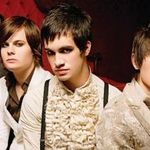 miercuri, aug 26, 2009 - Noul videoclip Panic At The Disco , intitulat New Perspective, poate fi urmarit pe METALHEAD accesand link-ul de mai jos: Panic At The Disco - New Perspective (New Video 2009)

Join the ranks ! LIKE us on Facebook