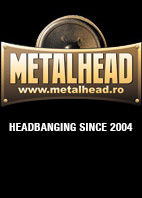 Stiri Concerte Bilete online Poze Artisti Tabulaturi chitara Versuri Radiouri Online Liste Forum METALHEAD Shop
Postmortem
Biografie
Country: Iran Label: Independent Website: postmortem-band.4t.com Formed in: 2004 2004-2006 Death metal 2007- Doom metal Line-up Current members: 2004- MaDjoM - vocals, all instruments Discography 2008 Out Of The Sight In Empyreal 9.5 ...
Toata biografia Postmortem
Stiri cu Postmortem
John McCarthy, solistul formatiei punk Post Mortem, a incetat din viata la varsta de 40 de ani in urma cu cateva zile. John Alexander, chitaristul formatiei, a declarat: John a fost un adevarat prieten. O persoana interesanta, care avea ceva interesnat de spus in fiecare zi. II vom simti mereu lipsa , a adaugat...



Aboneaza-te la newsletter
Join the ranks ! LIKE us on Facebook