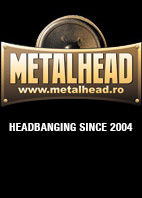 Stiri Concerte Bilete Poze Artisti Tabs & Chords Versuri Radio Online Liste Magazin de Muzica
Rob Zombie - Dead City Radio and the New Gods of Supertown videoclip
Rob Zombie a lansat un videoclip pentru piesa Dead City Radio and the New Gods of Supertown, primul single extras de pe viitorul album, Venomous Rat Regeneration Vendor.

CD-ul este produs de Bob Marlett,e acelasi care a lucrat cu Black Sabbath, Alice Cooper, Wlison Phillips sau Lynyrd Skynyrd.

Tracklist-ul albumului este:

01. Teenage Nosferatu Pussy
02. Dead City Radio And The New Gods Of Supertown
03. Revelation Revolution
04. Theme For The Rat Vendor
05. Gong Gang Gong De Do Gong De Laga Raga
06. Rock And Roll (In A Black Hole)
07. Behold! The Pretty Filthy Creatures
08. White Trash Freaks
09. We're An American Band (GRAND FUNK RAILROAD cover)
10. Lucifer Rising
11. The Girl Who Loved The Monsters
12. Trade In Your Guns For A Coffin

Va fi cate ceva pentru fiecare. Exista un feeling old school dar in acelasi timp am o perspectiva pentru viitor. E greu sa descriu muzica mea pentru cineva care n-a ascultat asa ceva. Cred insa ca e nul din cele mai bune albume pe care le-am inregistrat pana acum. Am gasit un echilibru perfect intre nou si vechi.'

"Se pare ca se intampla la fiecare cinci sau 10 ani, ai un moment cand totul are sens. Nu zic ca celelalte discuri sunt slabe, insa nu fiecare album este la fel de inspirat. Scrierea pieselor, felul in care suna, vibratia, productia - acest album este special", a spus Zombie.

500.000 rock & metal videos on ROCKTUBE and METALHEAD
Comenteaza logat cu Facebook

Join the ranks ! LIKE us on Facebook