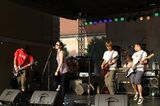 rehab_nation
Rank: Sergent - 30

Citat personal: "Hey, we are Rehab Nation (Ex R.I.O.T.), we''''ve changed our name, style and about everything humanly possible. R.I.O.T. was the warm-up for the real deal. We started out as a few friends just fooling around and enjoying themselves, nothing really changed except the fact that now others enjoy our music as well, this is a huge improvement. We try to address social issues through our music in non-conformist means. We take the world chew it up and regurgitate everything as we see it. Discography: International (2011) FREE! Download from: http://soundcloud.com/rehab-nation"
Comentarii
Ca sa comentezi trebuie sa fii logat pe site sau cu Facebook. Logheaza-te sau Fa-ti cont intr-un minut sau logheaza-te cu Facebook.
Merita o bere ?!
Converteste punctele tale in Quarci, cumpara niste beri si fa cinste rockerilor tai preferati ! [detalii]
rehab_nation are in beci:
0

din care 0 primite
0

din care 0 primite
0

din care 0 primite
Fa-i Cinste!