Biografie Shadows Fall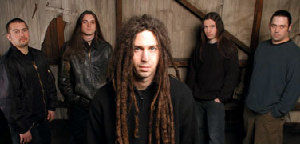 Shadows Fall
a fost formata in 1996, de catre chitaristul Jonathan Davis si Matt Bachard, alaturi de Adam Dutkiewicz. Jon a vrut sa formeze o trupa, dupa ce a cantat in Afershock. Philip Labonte, Paul Romanko si David Germain au completat formula Shadows Fall. Somer Eyes to the Sky, a fost lansat in 1997 sub egida
Lifeless Records
. Discul a oferit trupei un contract cu Century Media Records.
Of One Blood, al doilea album, a fost lansat in 2000. Labonte a parasit trupa pentru a se alatura celor de la All That Remains. Inlocuitorul sau a fost Brian Fair. Alaturi de acesta, Shadows Fall au sustinut un turneu cu The Misfits, King Diamond si
In Flames
.
Al treilea album, The Art of Balance a fost lansat pe 17 septembrie, 2002. Jason Bittner a devenit noul tobar al trupei. In 2003, trupa a cantat la Ozzfest. Shadows Fall a devenit prima trupa promovata de
Century Media
, care a reusit sa vanda peste 100.000 de albume in exces.
The War Within
, al patrulea album, a fost lansat pe 21 septembrie 2004. Discul a ajuns pe locul 20 in Billboard 200. Discul a fost vandut in aproximativ 300.000 de copii in SUA. A urmat in 2005, primul DVD al trupei, The Art of Touring. Ultimul CD sub egida Century Media a fost lansat in 2006 si contine piese ce nu au fost incluse pe albume.
In 2007, trupa a semnat cu Atlantic Records, unde au si lansat albumul Threads of Life. Recent, Shadows Fall au semnat cu Roadrunner Records, pentru distributia locala.
Stil:
thrash metal/metalcore/melodic death
Componenta:
Bruab Fair - voce
Jonathan Donais - chitara/voce
Matt Bachand - chitara/voce
Paul Romanko - bas
Jason Bittner - tobe
Discografie:
Somber Eyes to the Sky (1997)
Of One Blood (2000)
The Art of Balance (2002)
The War Within (2004)
Fallout from the War (2006)
Threads of Life (2007)
Seeking the Way: The Greatest Hits (2007)
SHADOWS FALL
http://www.shadowsfall.com
www.myspace.com/shadowsfall