Biografie SINNER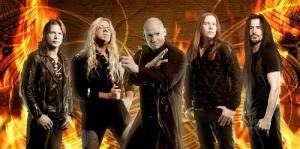 Sinner
este o trupa germana de heavy metal formata de catre Mat Sinner (Goddess Shiva, Primal Fear). Trupa a lansat primul album, Wild N Evil in 1982. Dupa multe schimbari de componenta, Herman Frank (
Accept
) a ocupat rolul de chitarist. Acesta a activat doar un an, dupa care Mathias Dieth a ocupat postul.
In 1987 a fost lansat Dangerous Charm, un disc mult mai melodic decat precedentele albume. In 1990 Mat Sinner a lansat albumul solo
Back To The Bullet
. Pana in 19995, artistul a incercat sa consolideze pozitia trupei, cu albume precum Respct si Bottom Line. In 1998 a fost lansat cel mai de succes album, The Nature of Evil. A urmat un turneu alaturi de Deep Purple. In 1998 Mat Sinner si Tom Naumann au format
Primal Fear
. In 2000, trupa a suferit prima schimbare de componenta din ultimii 5 ani. In ultimii 9 ani, Sinner a lansat 6 albume. Datorita implicarii in Primal Fear si
Goldess Shiva
, Mat a lasat deoparte sinner. In 2007 trupa s-a reintors cu Mask Of Sanity. Discul a produs doua single-uri, Diary of Evil si Black.
Stil:
heavy metal/hard rock/classic rock
Componenta:
Mat Sinner - chitara/voce
Tom Naurnann - chitara
Christof Leimn - bas
Frank Rossler - keyboards
Klaus Sperling - tobe
Discografie:
Wild'n'Evil (1982)
Fast Decision (1983)
Danger Zone (1984)
Touch of Sin (1985)
Comin' Out Fighting (1986)
Dangerous Charm (1987)
Mat Sinner - Back To The Bullet (1990)
No More Alibis (1992)
Respect (1994)
Bottom Line (1995)
Judgement Day (1997)
The Nature Of Evil (1998)
The End of Sanctuary (2001)
There Will Be Execution (2004)
Mask of Sanity (2007)
SINNER
www.matsinner.de
www.myspace.com/matsinner1