Biografie Suffocation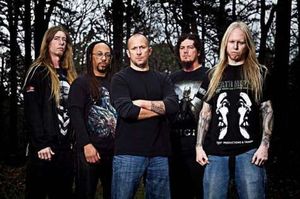 Trupa americana de death metal
Suffocation
s-a infiintat in 1990 in Long Island, New York.
Suffocation au infiintat un subgen al stilului metal, denumit ca brutal death metal. Alaturi de formatii ca Immolation,
Mortician
si Incantation, Suffocation sunt considerati ca facand parte din valul de New York death metal.
Formatia a iesit in evidenta si prin faptul ca are in componenta doi muzicieni afro-americani, bateristul Mike Smith si chitaristul Terrance Hobbs, un lucru mai putin intalnit pe scena metalului extrem.
Albumul de debut se intituleaza
Effigy of the Forgotten
si apare in 1991.
In 2004, trupa se reuneste pentru a inregistra Souls to Deny, in componenta formatiei revenind Mike Smith, bateristul original Suffocation. Pentru promovarea acestui album, Suffocation intreprind un turneu mondial. Dupa mai bine de 200 de concerte live, formatia lanseaza primul material live, intitulat Close Of A Chapter: Live In Quebec City.
In 2006 apare albumul self-titled, la casa de discuri Relapse Records. Un an mai tarziu, trupa apare intr-o reclama pentru The History Channel.
Suffocation s-au despartit in iunie 2007 de casa de discuri
Relapse Records
si cauta in prezent un nou label.
Stil:
brutal death metal
Componenta:
Frank Mullen - voce
Terrance Hobbs - chitara
Guy Marchais - chitara
Derek Boyer - bass
Mike Smith - baterie
Discografie:
Reincremation (1990)
Human Waste (1991)
Effigy of the Forgotten (1991)
Breeding the Spawn (1993)
Live Death (1994)
Pierced from Within (1995)
Despise the Sun (1998)
Souls to Deny (2004)
Live in Quebec - The Close of a Chapter (2005)
Suffocation (2006)
SUFFOCATION
www.suffocation.us
www.myspace.com/suffocation