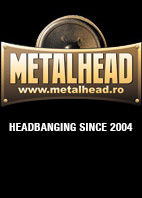 Stiri Concerte Bilete Poze Artisti Tabs & Chords Versuri Radio Online Liste Magazin de Muzica
Concerte Testament
Daca ai facut poze la un concert, cauta-l in arhiva sau in calendar (click pe ziua sau luna concertului) si urca pozele tale pe site: Arhiva concerte
12 August 2014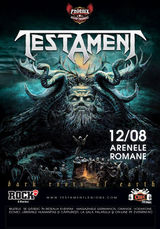 Testament se intorc in luna august pentru o serie de concerte europene, atat la festivaluri de profil cat si concerte individuale. Dupa programarea mai multor showuri in Europa de Est, surse interne confirma faptul ca grupul american va...
Locatie: Arenele Romane - Bucuresti
Stiluri: Thrash Metal
06 August 2009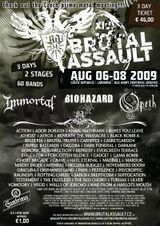 BRUTAL ASSAULT FESTIVAL vol. 14 3 DAYS FULL OF METAL MUSIC – 2 EQUIVALENT STAGES – 60 BANDS FROM ALL OVER THE WORLD Thursday – Saturday August...
Locatie: Czech Republic - Europe
Stiluri:
Vezi si concerte din orasele de mai jos:
Bucuresti Cluj Napoca Sibiu Suceava Timisoara Constanta Iasi Oradea Arad Galati Buzau Brasov Ploiesti Targu-Mures Bacau Pitesti Satu Mare Baia Mare Vama Veche



Join the ranks ! LIKE us on Facebook