Stiri The Gates Of Slumber
Scrie si tu pe site cu Citizen Journalism.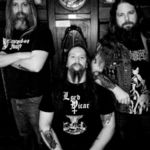 marţi, sep 24, 2013 - Se pare ca trupa The Gates of Slumber nu supravietuit plecarii basistului Jason McCash , care a anuntat saptamana trecuta ca va parasi trupa. Solistul si totodata fondatorul trupei, Karl Simon , a facut ieri urmatoarea declaratie:...