Biografie The Gathering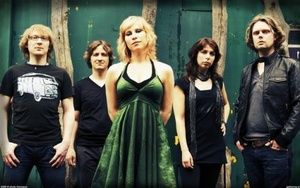 The Gathering au evoluat de la sound-ul lor death metal din 1989, la influente mai eclectice si diverse cu fiecare lansare. Abordand noua imagine, cu solista vocala Anneke van Giersbergen ca frontwoman, The Gathering au devenit o forta majora in scena rock europeana. Primele doua albume au pregatit scena pentru materialul care a marcat inceputul succesului pentru The Gathering, si anume "Mandylion" din 1995.
Vocea superba a solistei Anneke, pe langa stilul mereu in dezvoltare al trupei, au construit albumele memorabile de mai tarziu si au format o baza de fani care a ramas fidela pana astazi. Ultimul album The Gathering, intitulat "Home" a fost lansat anul trecut, si continua stilul experimental, cu un sound mai intim, pastrand totusi acea tenta gothic.
Pe data de 11 februarie 2007 The Gathering au fost onorati cu doua premii, si anume la categoriile "Outstanding Achievement" si "Best Dutch Live Band" la editia anuata a premiilor Night Live XS, de la Club Paradiso, din Amsterdam. Vara aceasta ii puteti vedea pe The Gathering la Sibiu, la Artmania festival 2007.
Stil:
Doom/Death/Gothic Metal/Experimental
Componenta:
Frank Boeijen - clape
Rene Rutten - chitara
Hans Rutten - tobe
Anneke van Giersbergen - voce
Marjolein Kooijman - bass
Discografie:
Always... (1992)
Almost A Dance (1993)
Mandylion (1995)
Nighttime Birds (1997)
How To Measure A Planet? (1998)
If Then Else (2000)
Souvenirs (2003)
Sleepy Buildings - A Semi Acoustic Evening [Live] (2004)
Home (2006)
THE GATHERING
www.gathering.nl
www.myspace.com/gatheringofficial