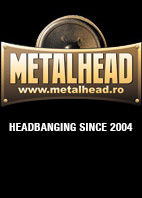 Stiri Concerte Bilete online Poze Artisti Tabulaturi chitara Versuri Radiouri Online Liste Forum METALHEAD Shop
Biografie The Killers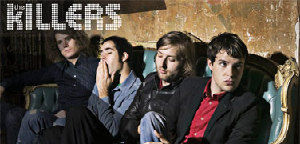 Trupa rock americana The Killers, cunoscuta pentru hiturile sale precum "Somebody Told Me", "Mr. Brightside" si "When You Were Young", este considerata de critici drept o sinteza intre muzica indie rock britanica si rock-ul anilor '80, in special
New Wave
. Discografia The Killers curpinde pana in prezent doua albume de studio, "Hot Fuss" (2004) si "Sam's Town" (2006).
In 2001, vocalul trupei "Blush Response", Brandon Flowers, al carei stil se incadra in categoria synth pop, decide ca este timpul sa infiinteze un grup rock adevarat, motiv pentru care il coopteaza pe chitaristul Dave Keuning. Ambii erau admiratori ai formatiilor
Oasis
si
Smashing Pumpkins
. Grupul pe care cei doi intentionau sa il intemeieze este intregit de basistul Mark Stoermer si bateristul Ronnie Vannucci Jr.
"The Killers" este numele trupei nou infiintate, inspirat dupa videoclipul celor de la New Order pentru piesa "Crystal".
The Killers sustin concerte la inceput in cluburi si baruri din Las Vegas, Nevada. Cu un line-up stabil si cu un repertoriu in extindere, formatia incepe sa straga atentia promoterilor si caselor de discuri, si chiar a unui reprezentant britanic de la Warner Bros. Acesta accepta demo-ul formatiei, si le obtine un contract cu
Lizard King
, motiv pentru care The Killers se muta in Anglia.
Albumul "Hot Fuss" apare pe 7 iunie 2004 in Marea Britanie la Lizard King Records, si pe 15 iunie in Statele Unite la Island Records. In acelasi an este lansat si primul lor single, "Somebody Told Me", urmat de "Mr. Brightside" si "All These Things That I've Done", care intra in primele zece pozitii ale topului national britanic. Stilul acestui album resimte influenta trupelor despre care The Killers au afirmat ca ii au drept mentori: Dire Straits, David Bowie, U2, Queen, The Beatles.
Al doilea album The Killers, "Sam's Town", apare pe 2 octombrie 2006. Brandon Flowers afirma ca este unul dintre cele mai bune materiale din ultimii douazeci de ani. Primul single de pe acest album, "When You Were Young", debuteaza pe posturile de radio cu cateva luni inainte de aparitia albumului si ajunge pe a doua pozitie a topului britanic. Al doilea single The Killers de pe albumul "Sam's Town" se intituleaza "Bones" si beneficiaza de un videoclip realizat de celebrul regizor
Tim Burton
.
De-a lungul scurtei dar remarcabilei cariere muzicale de pana in acest moment, The Killers au participat la numeroase show-uri de televiziune celebre, precum "Saturday Night Live" (unde au fost invitati de doua ori), "Jimmy Kimmel Live", "Late Night with Conan O'Brien".
The Killers au primit numeroase premii si nominalizari, dintre care cele mai importante ar fi: nominalizari Grammy pentru cel mai bun album rock ("Hot Fuss"), pentru cea mai buna piesa rock ("Somebody Told Me"), cel mai bun videoclip ("When You Were Young"), nominalizarea
Billboard Music Awards
pentru cel mai bun grup al anului. Au castigat de asemenea premiul MTV pentru cel mai bun debut, in 2005 si pentru cel mai bun grup rock in 2006.
The Killers au anuntat recent ca lucreaza la un nou album, pe care intentioneaza sa il lanseze in 2008.
Stil:
alternative/synth rock, post-punk
Componenta:
Brandon Flowers - voce
Dave Keuning - chitara
Mark Stoermer - bass
Ronnie Vannucci Jr. - tobe
Discografie:
Hot Fuss (2004)
Sam's Town (2006)
THE KILLERS
www.thekillersmusic.com
www.myspace.com/thekillers

Aboneaza-te la newsletter
Join the ranks ! LIKE us on Facebook