Stiri The Law
Scrie si tu pe site cu Citizen Journalism.
miercuri, feb 23, 2011 - Fetus Stench este numele noului proiect in care activeaza membri Blood Red Throne, The Law si Slaughterous. Trei piese extrase de pe materialul demo de debut - Stillborn Son, Meat Grinder Flesh Obliteration si Butchery Divorced -...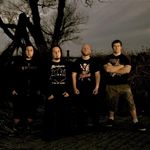 joi, apr 22, 2010 - Cele mai noi videoclipuri ale formatiilor Brain Drill si The Law pot fi urmarite pe METALHEAD accesand link-urile de mai jos: Videoclip The Law - Simplify Videoclip Brain Drill - Beyond Bludgeoned Piesa...