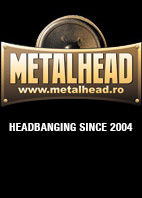 Stiri Concerte Bilete Poze Artisti Tabs & Chords Versuri Radio Online Liste Magazin de Muzica
The Sirens
Stiri cu The Sirens
O serie de inregistrari video, realizate cu prilejul concertului sustinut de grupul The Sirens saptamana trecuta, in Bonn, au fost postate online, putand fi urmarite mai jos. Enjoy! The Sirens este un proiect muzical din care fac parte Kari Rueslatten (The Third and The Mortal),...


Piesa este preluata de pe cel mai recent disc solo al solistei Leaves' Eyes - "Vervain", album care urmeaza a fi lansat pe 4 noiembrie, via Napalm Records, pentru duetul "Love decay" Liv Kristine alegandu-l pe Michelle Darkness, solistul trupei germane de goth metal "End of...


The Sirens, formula care grupeaza cele mai importante voci feminine ale gothic metalului, ofera doua compozitii noi incantatoare, care pot fi ascultate mai jos. Primele doua piese - "Sisters of The Earth" si "Embracing the Seasons" - ale proiectului din care fac parte...



Join the ranks ! LIKE us on Facebook