Stiri The Swan Bride
Scrie si tu pe site cu Citizen Journalism.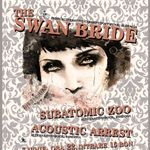 marţi, iun 5, 2012 - Gambrinus Pub in colaborare cu LaChambreDuChat si B.H.C.B. va invita la un concert mai mult decat interesant cu: The Swan Bride , Subatomic Zoo si Acoustic Arrest joi, pe 7 iunie. The Swan Bride canta si in Capitala, pe 10 iunie....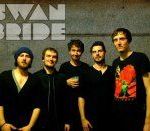 joi, mai 24, 2012 - In data de 10 iunie 2012, La Chambre Du Chat va invita in Londophone la concertul : THE SWAN BRIDE ( cabaret/post-punk/garage - Slovacia ) & Mobelspedition (experimental rock / post-rock - Bucuresti) THE SWAN BRIDE -...