Stiri TODAY IS THE DAY
Scrie si tu pe site cu Citizen Journalism.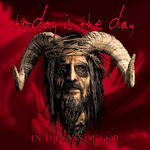 vineri, aug 13, 2010 - In The Eyes Of God, material clasic semnat de Today Is The Day, va fi relansat in luna septembrie via Relapse Records. Editia re-masterizata contine sase piese demo bonus plus un full-length DVD. DVD-ul contine filmari din sala de...

Join the ranks ! LIKE us on Facebook